Several SANY tower cranes are purchased to undertake the heavy lifting work during the construction of the Balinghe Bridge, one of the world high suspension bridges.
Located in mountain areas in Guizhou province, China, the Balinghe Bridge connects two mountain ranges over a large Guanling Valley. It is a four-lane route with a total length of 2,237m (7,339ft), clearance from the water to deck of 370m (1,214ft), and the bridge's suspension span is 1,088m (3,570ft) long, which is one of the longest suspension bridges in China. SANY tower cranes mainly used to do the heavy lifting and placement duties in the construction of the bridge's two towers.
The height of the bridge east tower is 186m (610ft) and the height of its west tower is up to 201m (659ft), and each tower is supported with a pile group of 32 pile foundations. The tower cranes must withstand all the troubles caused by the mountainous landscape, complex geological conditions and large temperature difference between day and night, summer and winter.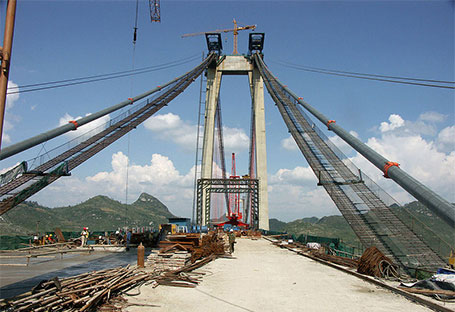 SANY tower crane is built to work, fits for different demanding jobsites. High strength Q345B steel, core components specially treated with coating for salt spraying resistance, stamping molding bar with weld flaw detection all contribute to the strong structure of our tower crane. Modular boom design, with 30m-75m boom configurations available, the tower crane covers a wider reach. The strong lifting capacity and load capacity delivered during the construction is praised by the customer.
It is great for our tower cranes to help build the Balinghe Bridge, which has significantly reduced the travel time of local people and attracted thousands of tourists to see this wonder and nearby scenic spots since opened to public in 2009.